For a long time, squash has been thought of as a game for Ivy League college students. The number of squash courts was slowly dropping, and the number of players has been decreasing for years. But all that is about to change, thanks to amazing innovations that harness tech to open up the game to new participants.
Tpoint and ASB have developed cutting-edge glass courts, with atmosphere and lighting control, video cameras for live-streaming games, and new improved visibility for spectators. Tpoint's new concept for squash courts delivers a magnificent, cutting-edge facility that promises to revolutionize squash into the new arena experience around the city. Here's a quick overview of the ways that Tpoint will transform squash into the new social hub.
Seeing is believing
Tpoint's glass squash courts provide a superior spectator experience, turning a squash game into the heart of a student community. Glass walls mean that viewers can see every move, without any obstacles getting in the way of their line of vision. Thanks to the modular design, Tpoint courts can be set up anywhere, including city parks, landscaped campus areas and the rooftops of buildings, with extended eaves that shade the surrounding area to attract spectator to sit around and view the games. Refreshment stands, a bar, social areas, and therapy areas fit neatly into the design, turning the squash courts into a focal point for community interaction.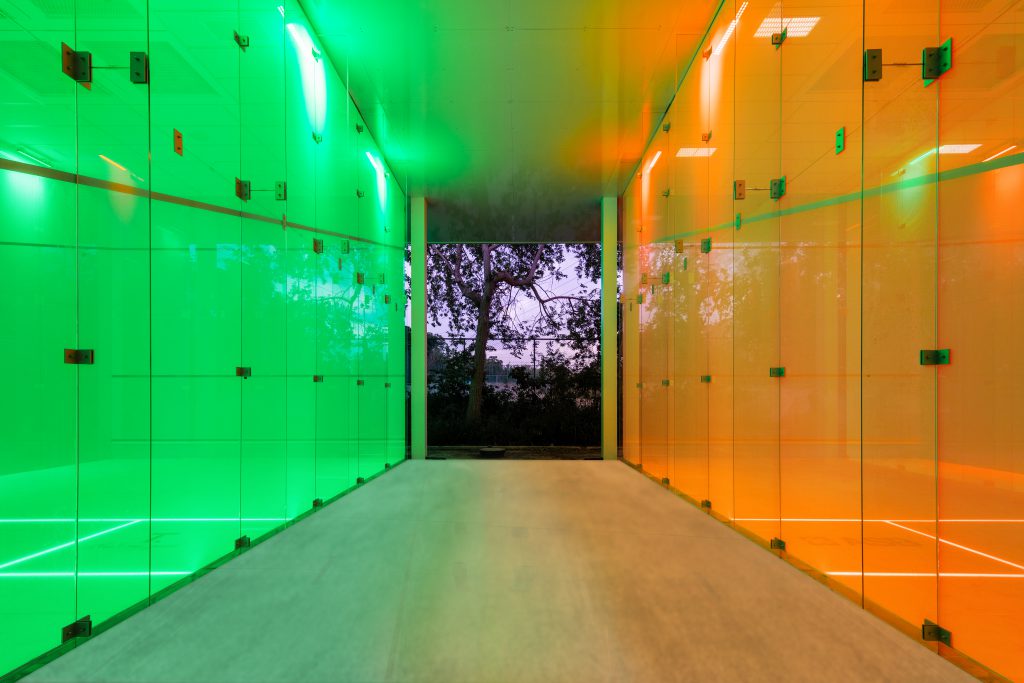 Online and offline
Today's students are used to merging their online and offline worlds, hanging out together on social media at least as much as they hang out together "in real life." That's why it's critical to enable squash players to bring their love for the game onto Instagram, Facebook, Snapchat, and every other social platform. After all, if it's not on Insta, it didn't happen.
Tpoint helps squash to cross over the divide between offline and online. You can share and evaluate performance data, and even issue challenges on every social media platform. Use the Tpoint app on your phone to sync data about your latest game, so you can track your progress through the squash rankings. With Tpoint, players can make new connections both online and offline.
Serve and share
Each of Tpoint's advanced courts includes video recording capabilities, so squash players can share their games just like running enthusiasts share their run times and routes, football players share highlights of games, and athletes in general share their best moments in sport.
Now squash players can invite friends and family to watch live games broadcast on Facebook or YouTube. Connecting squash with social networks turns it into a social media experience that anyone can tap into, anywhere, at any time.
The new arena experience
Amazing technology from ASB and Tpoint maximizes glass walls which allow spectators to watch the entire game in perfect clarity, while players see smooth walls that cause no distractions. The walls are embedded with ceramic dots that are invisible from the outside, but that give the appearance of matte walls on the inside.
Players can change the color of the walls through Tpoint App adjustable lighting controls, creating matte walls without any glare. Advanced audio systems within each court allow players to set their own soundtrack for their games, but clever soundproofing prevents players from hearing music from a neighboring court, or the buzz of conversation from spectators. Now squash players can enjoy a full arena experience with every game, feeling the excitement of being part of the cutting edge of sports tech.